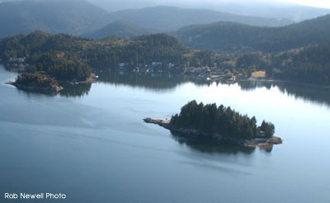 Belcarra Park
It is possible to drive to Belcarra Park, so you will find many people here on summer weekends. A concession stand and public washrooms are located a short walk from the beach.
Distance from Deep Cove: 3 km
Paddling Time One Way: Fast: 35 min. Avg: 50 min. Leisurely: 1 hr.
Suggested Route: Paddle south from Deep Cove along west shore of Indian Arm Channel. As channel narrows cross to Hamber Island. You can pass between Hamber Island and mainland at high tide. From here you can see the grassy field of Belcarra Park to the east.
Hazards:
Current
Motorboat traffic on busy weekends, coming from several directions
Features: Belcarra is a Metro Vancouver (GVRD) park. It is a popular picnic area and is very busy on summer weekends. A dock specifically for crabbing is located here and is usually jammed on busy weekends. There are some nice hiking trails heading south to Admiralty Point. If you are hungry for a greasy hamburger and fries Belcarra has a concession stand.
Nature: Look toward the trees on top of Boulder Island for eagles. In late August the Narrows between Hamber and Grey Rocks is a popular fishing area for harbour seals.
History:
Belcarra has significant importance to the Tsleil Waututh Nation (People of the Inlet). This was their traditional wintering grounds. There is still evidence of an ancient midden (shell refuse area) on the shoreline.
Just south of Belcarra located high in a fir tree you can see the remnants of a tree house. George Dyson occupied this tree house for several years. George is the Author of "Baidarka" and was the subject of "Starship and the Canoe"