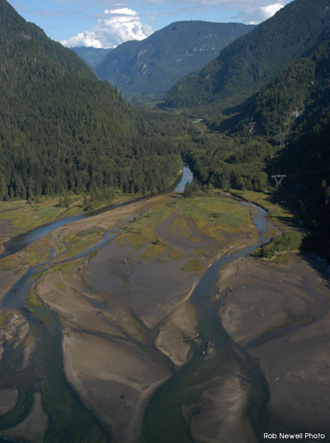 Indian River Estuary
Distance from Deep Cove: 20 km
Paddling Time One Way: Fast: 3 hrs Avg: 4 hrs Leisurely: 6 hrs
Suggested Route: The west shore of Indian Arm makes for the most direct and scenic route. Take the eastern channel between Croker Island and the mainland. It is best to go to Indian River Estuary as a day trip from your campsite at Bishop Creek or Granite Falls. It is great to time your visit when high tide is covering the mud flats.
Hazards:
Currents in the river mouth
Being stuck high and dry in the middle of the mud-flats
Features: Indian River Estuary is a very beautiful area and every effort should be made to include it in your overnight or 2 day trip. The mud flats are exposed at high tide with a channel leading into the river. The river is deep enough to paddle up. Adjacent to the river mouth is a road that connects to Squamish. The yearly Sea2Summit race takes this road as part of the 2 day multi-sport adventure race.
Nature: There are many seals that like to hang out here, basking on the many logs in this area. There are lots of birds in this area. A chum salmon run late in October attracts lots of eagles.