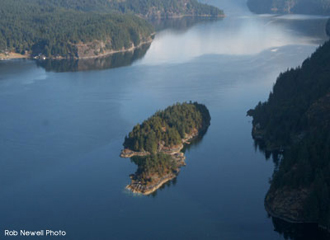 Twin Islands
Twin Islands is a beautiful Provincial Park. These two islands earned their name because they share a sandy beach connecting them together at low tide. Overnight camping is permitted on the North island. It is possible to walk from the smaller southern island to the main, much larger northern island at low tide. On the Eastern side of the Northern Island is a public dock.
Distance from Deep Cove: 5.5 km
Paddling Time One Way: Fast: 50 min. Avg: 1 hr 15 min Leisurely: 1 hr 40 min
Suggested Route: Paddle the same route as to Raccoon Island, once at Raccoon diagonal north-east across to Twin Island. Return via Jug Island.
Hazards:
Afternoon warming on a sunny day creates strong headwinds for your return trip.
Lots of motor traffic on busy weekends.
Features: A popular destination. As the name denotes there is one small island and one tiny islet. They are located 75 meters from Indian Arm's east shore. There is a dock on the bigger island which attracts motor boaters. The North island has several campsites and outhouse facilities. There is no running water on these islands.
History: You can locate four depressions in the ground on the middle of the island. A prospector who believed he could find blue diamonds on the island created these depressions.
Nature: The sheltered water between the two islands is a great location for viewing underwater marine life, such as crabs, starfish and schools of small fish.
Note: We would like to enforce that there are NO fires permitted at any campsite or on any island.