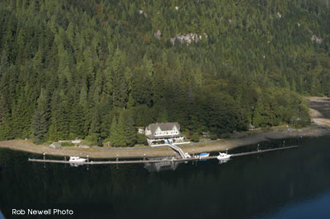 Wiggam Inn
Wigwam Inn is a beautiful old hotel located at the northern end of Indian Arm with a long and notorious history. It is privately owned by the Royal Van Yacht Club and not open to the public.
Distance from Deep Cove: 19 km
Paddling Time One Way: Fast: 3 hrs Avg: 4 hrs Leisurely: 6 hrs
Suggested Route: Paddle the west shore of Indian Arm.
Hazards:
You can feel the current from the Indian River. After a long paddle it feels like you will never reach your destination.
If paddling from Deep Cove, please be aware that the shores of Indian Arm are steep with few beaches to land on that are not private.
Because this is a yacht club, there will be more motorboat traffic in this area.
Be careful of motorboat traffic in the west channel between Croker and the mainland
Features: This historic inn opened in 1910 as a world-class resort. It was operated by Count Gustav Constantin Alvo Van Alvensleben until 1963. It changed hands several times and was raided by RCMP as a gambling casino. Among its many guests were John D. Rockefeller and John Jacob-Astor. The Royal Vancouver Yacht Club currently owns the Wigwam Inn. Unfortunately you must be a member or know a member to do anything other than look. The building has a full industrial kitchen, shower and many nice hotel style suites. The view from the balconies is spectacular.
History: You can locate four depressions in the ground on the middle of the island. A prospector who believed he could find blue diamonds on the island created these depressions.
Nature: The grounds have been landscaped with many rockwall and there are stands of deciduous trees laden with moss.