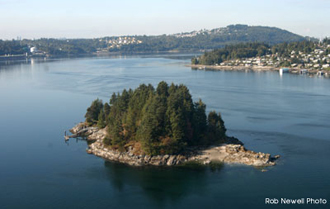 Boulder Island
Be sure to keep an eye out for eagles while paddling by the island.
Distance from Deep Cove: 2.5 km
Paddling Time One Way: Fast: 20 min. Avg: 40 min. Leisurely: 55 min.
Suggested Route: Paddle south (right hand side) from Deep Cove to Grey Rocks Island. From Grey Rocks paddle east across the channel to Boulder Island.
Hazards: Be very alert for motorboat traffic crossing from Grey Rocks to Boulder and from Boulder to any direction. This current is strongest here.
Nature: The trees on Boulder Island are a popular hang out for eagles.
History: Boulder Island got its name from a large boulder that lay on its rocky shore. Some time ago (this means I don't know how long) 20 - 30 years?? A barge anchored off Boulder Island. Quite often barges would drill anchors in the rocky outcroppings. After the barge arrived the fog set in and local residents recollect hearing drilling for several days. When the fog cleared the barge was gone and so was the boulder. It had split in 2 and tumbled into the water.
Features: It only takes 5 - 10 minutes to paddle around Boulder Island. It is privately owned with several cabins on it. There is a little bay on the north side of the island where you can rest.