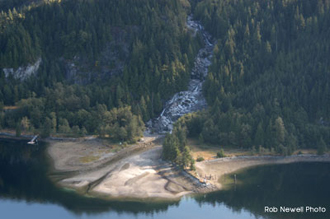 Granite Falls
A spectacular place to camp.
Distance from Deep Cove: 18 km
Paddling Time One Way: Fast: 3 hrs. Avg: 4 hrs. Leisurely: 6 hrs.
Suggested Route: Paddle the west shore to Croker Island, take the west channel between Croker and the Mainland, once you round the northern end of Croker you will see Granite Falls on the east shore.
Hazards:
Motorboat traffic
Flow rates on the falls can vary so hiking on the falls can be dangerous
Bears are occasionally reported in the area
Afternoon warming on a sunny days create strong headwinds for your return trip
The outflow currents from Indian River can be felt here.
Features: Granite Falls is the best camping area on Indian Arm. Use the area south of the falls where there is a nice beach located. This is a BC Park with glamorous outhouse facilities. Camping first come first serve.
Note: We would like to enforce that there are NO fires permitted at any campsite or on any island.